Our man Alex put the new Polaris Ranger SP 570 to the test. Starting at $10,499 (U.S. MSRP) it's a rugged bargain of a worker, that likes to play.
It's not Alex is brutal (he can be), but he truly hammered the Polaris Ranger SP 570 UTV at a Polaris event. During his muddy ride, he came away with some positive conclusions. Remember, the Ranger SP 570 was built as a rugged work machine. One that can be easily stored, transported, and maneuvered. The fact that it is a hoot to hustle is a byproduct of the UTV builder trying to make all things to all consumers.
That also means that these vehicles are fairly affordable. Starting at $10,499, a fully loaded Ranger SP 570 Crew North Star Edition tops off at about $20,000. Typical to Polaris, there are many accessories that can pump up the price as well.
The Ranger SP 570 is powered by a 44-horsepower, 567cc,four-stroke, single-cylinder DOHC engine. With a dry weight of 1,139 lbs and a fuel capacity of 9.5-gallons – the SP 570 is sprightly and frugal. On top of that, its tight and light dimensions make it easier to move.
You can read about the Polaris Ranger EV testing (here).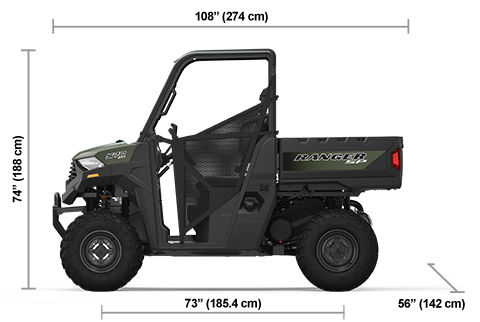 "With the new RANGER SP 570 lineup, you don't have to make a trade-off between work and fun. When there's work to be done, it makes hauling and towing fast and easy thanks to class-leading capability. When it's time for fun, it offers maximum comfort, plus tight spaces are no problem and the handling's a breeze."
Here are some additional Polaris Ranger SP 570 specifications:
Ground Clearance 11 in (27.9 cm)
GVWR 2,255 lbs.
Hitch Towing Rating 1,500 lbs (680 kg)
Hitch 2 in receiver (5.08 cm)
Payload Capacity 1,000 lb (453.6 kg)
Check out this video and watch our man Alex put the SP 570 through its paces!