At 50-inches wide, the $13,699 (base) 2022 Polaris RZR Trail can fit in most places recreational UTVs can't!
The 875cc 2022 Polaris RZR Trail is a unique machine, among massive side-by-sides. It makes a whopping 75 horsepower. When you realize how small it is, you'll understand why we think the power is impressive. There is something to be said about a small enough vehicle that can go where others cannot. On top of that, it's refreshing to see a side-by-side that can actually be transported by a regular pickup truck.
Price is another benefit.
The $13,699 (MSRP) base price gets you into the entry model RZR Trail Sport. Pony up $15,999 gets you the Trail Premium, and $17,999 elevates you up to the 2022 Polaris RZR Trail Ultimate. Our badass rider/reviewer Alex hops behind the wheel of the RZR Trail, and he was pleased with the performance.
Equipped with a PVT/CVT tranny, the weight comes in at about 1,238 lbs. So, 75 horsepower pushing an all-wheel-drive (AWD) buggy that weighs less than 1,300 lbs? That's a great power-to-weight ratio!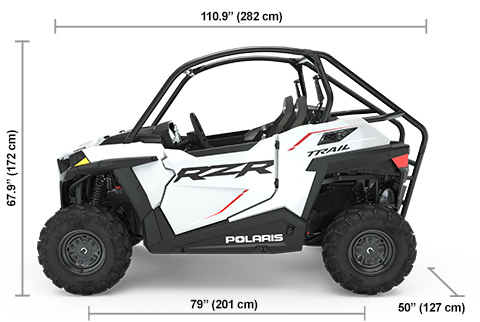 "With a narrow stance to fit in tight spots and a fast engaging all-wheel drive to choose your line through tough trails, you can explore more of the outdoors. Become one with the trail with agility to carve corners and quick acceleration, and never worry about slowing down with toughness to get through challenging trails."

Polaris
Here are the main dimensions of the 2022 Polaris RZR Trail
Bed Box Dimensions (L x W x H)20.7 x 37 x 7.9 in (52.5 x 94 x 20 cm)
Box Capacity 300 lb (136 kg)
Estimated Dry Weight 1238 lb (561.5 kg)
Fuel Capacity9.5 gal (35.9 L)
Ground Clearance11 in (27.9 cm)
Hitch Towing Rating1,500 lb (680 kg)
Overall Vehicle Size (L x W x H)110.9 x 50 x 67.9″ (282 x 127 x 172 cm)
Payload Capacity740 lb (336 kg)Wheelbase79 in (200.7 cm)
In this video, Alex gets to stretch the legs of the little giant, and he appears to be impressed with its overall drivability. Check it out!