The BAIC BJ40 is much less expensive than the equivalent Jeep Wrangler, but that should be no surprise. You get what you pay for.
BAIC (Beijing Automotive Industry Corporation), builds the BAIC BJ40 in Beijing, China – selling it to various international markets. As an example: I found most of the specifications on a Kuwaiti website, and the BAIC BJ40 is also fairly popular in its home country of China. In China, approximate (USD) prices for the BJ40 sit between $19,000 and $26,000. The equivalent Jeep Wrangler runs between $55,000 to $85,000. No kidding.
You would think, with that type of price disparity, there would be a few quality/performance differences between the two, and there are. Still, for those who want a real 4×4 that has a removeable top and rugged appeal overseas, the BJ40 is pretty compelling.
The mechanicals
All BIAC BJ40s come with a turbocharged 246 horsepower 2.3-liter gas engine that makes 258 lb-ft of torque. A six-speed automatic transmission is part of the package. It also comes standard with a proper four-wheel drive system. That includes a manually controlled two-speed transfer case. It appears that there are open differentials front and rear. In many ways, the setup of the BJ40 is similar to the Mahindra Thar, which is also a knock-off of the Wrangler. In fact, both of these vehicles have independent front suspensions, unlike the Wrangler's solid front axle.
The off-road dimensions are pretty good, with 37-degree approach, 24-degree breakover and 33-degree departure angles. Ground clearance is just 8.7-inches, which isn't fantastic. Part of that may have to do with the front suspension setup. Overall, these numbers fall short of the equivalent Wrangler by a large margin.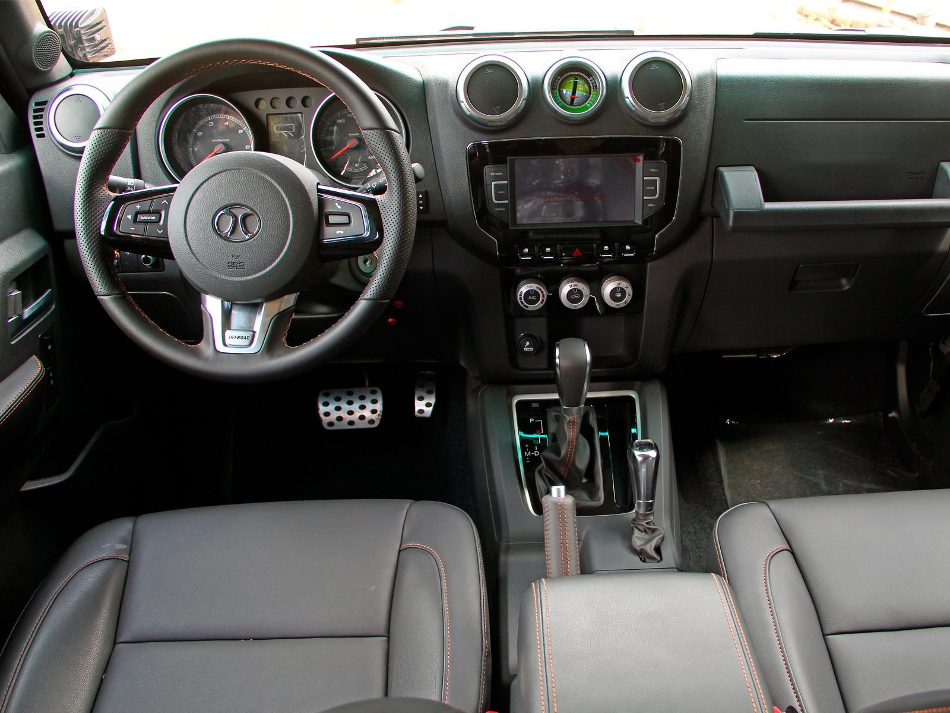 The interior copies the Wrangler too
Just like the exterior, which some could argue is not a total ripoff (thanks to its unique nose) the interior is VERY Jeep-like. Many of the interior shapes and controls are remarkably similar to the Wrangler, although that centrally located compass is a nice touch. There's also a altimeter, barometric pressure and ambient temperature gage in that cluster. Sure, Jeep handles those functions (and many others) digitally, but I truly like having some analogue readings.
I have a friend in the UAE who drove one of these recently. He's a Jeep guy, but he did remark (after commenting about its mediocre build quality) that it was well planted on the road, handled sand dunes with no problem and was a fairly comfortable ride. He compared it to his late 90s Toyota 4Runner in terms of capability and drive-ability.
I guess that's a positive perspective.
Check out this Mahindra video and let's hear what you think of the Thar.